Overview
To understand CWV, we need to understand Web Vitals first.
Optimizing for the quality of UX (user experience) is key to the continuous victory of any website or webpages. Whether you're a business owner, marketer, or developer, Web Vitals can help you quantify the experience of your site and identify opportunities to improve.
We all have used multiple tools to gather user behaviour data on websites, but in May 2020, Google announced specific metrics to calculate website experience for real users across loading time, interactivity and visual stability. These metrics are known as Core Web Vitals.
What are Core Web Vitals?
Core Web Vitals as of March 2023 consists of 3 significant components, and they are:
Largest Contentful Paint (LCP): It measures the loading performance.
First Input Delay (FID): It measures the Interactivity
Cumulative Layout Shift (CLS): It measures the visual stability

For each of the metrics shown above, websites need to pass the 75th percentile of each of the metrics for both Mobile and Desktop visitors for the website.
There are three ratings for each of these metrics to calculate UX, and it varies from metric to metric:
Good
Needs Improvement
Poor
How CWVs data sets get collected?
CWVs are generated by CrUX (Chrome User Experience) data sets collected over a period of 28 days for all the actual users that visit the website with a Chrome browser.
If the traffic is not high, CWVs might not be present.
We have recently launched a feature where you can generate CWV data for the last 6 months for any URLs, and the data source is CrUX.
The below image will help you understand the CWV metrics for Amazon over the last 6 months: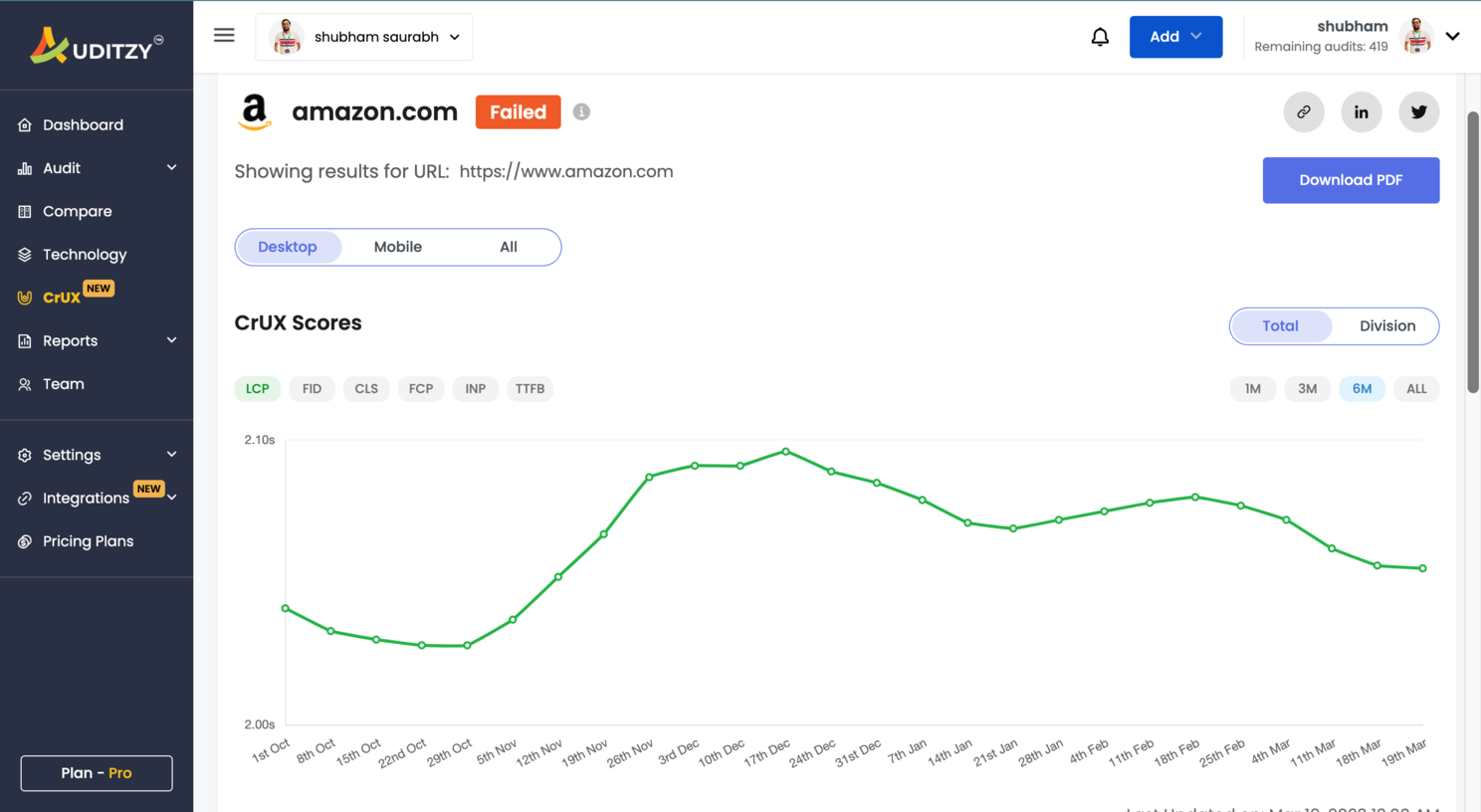 As per the above image, you can see how Amazon has optimised their FCP for the 75th percentile of website visitors and passed LCP for the desktop mode. But it's still showing Failed because it might not be passing any of the other two metrics, which are CLS and FID.
Now we will see the data for FID & CLS for the same Amazon website calculated over the Domain level.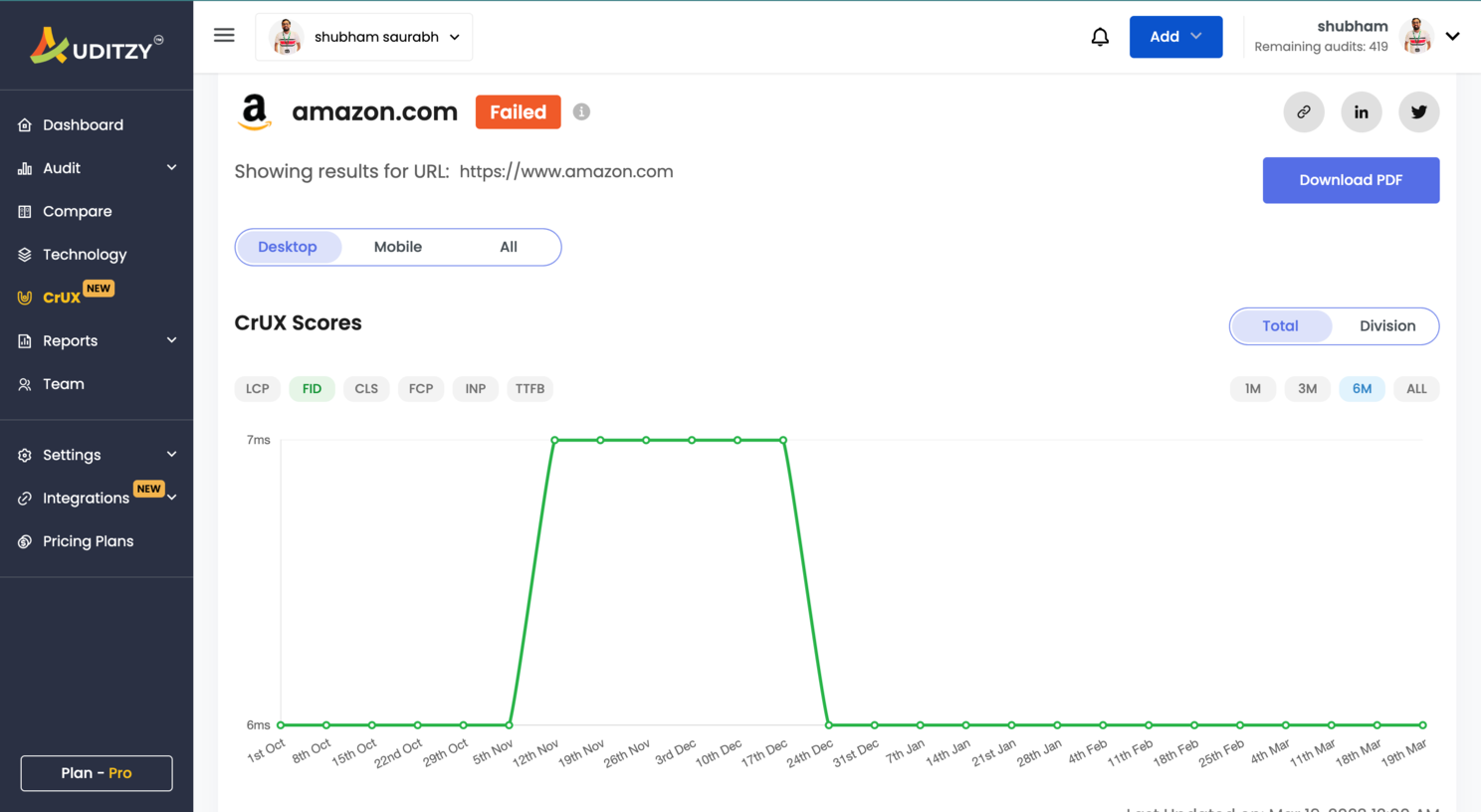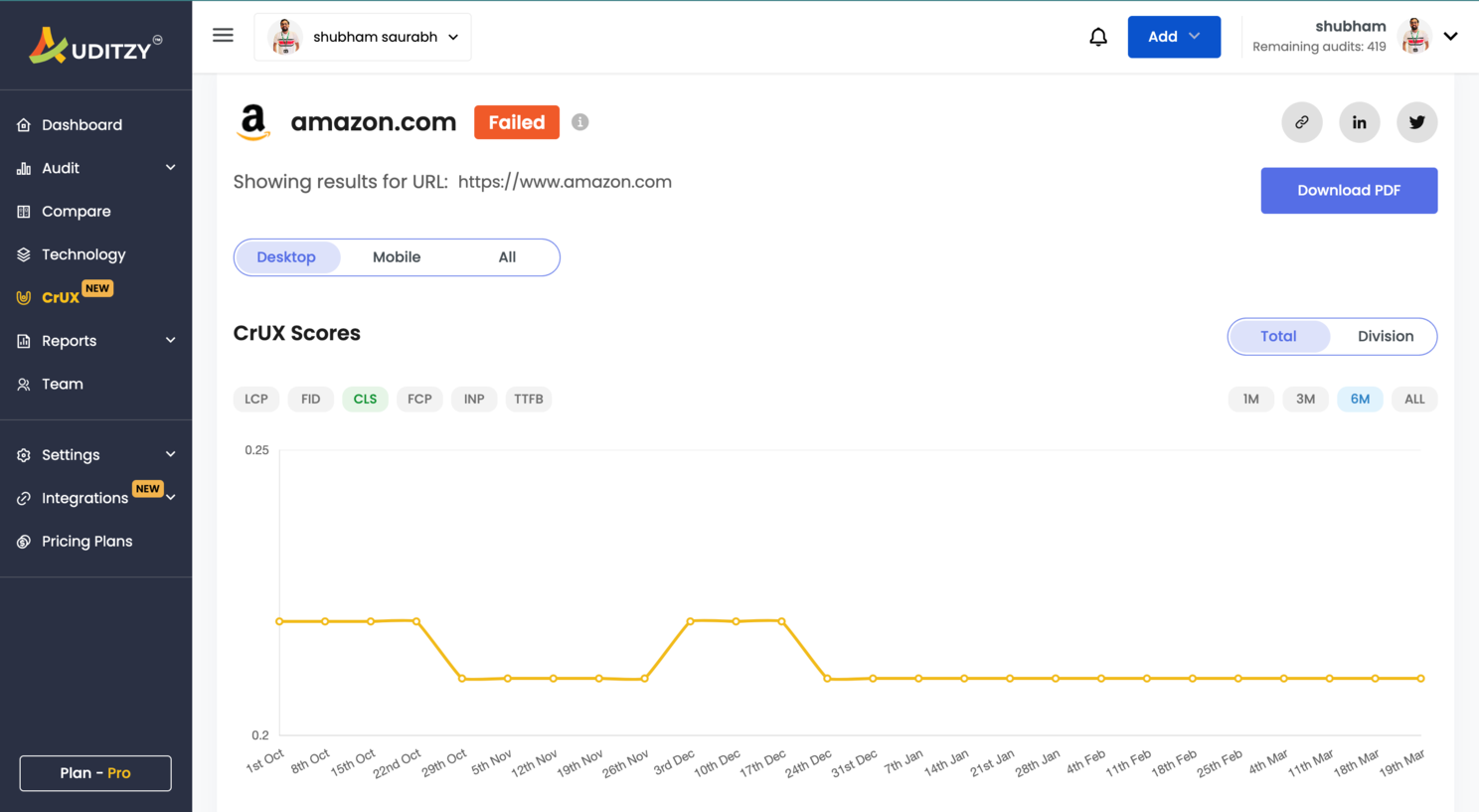 As per the above two images, we can clearly see that CLS is average for the 75th percentile of the visitors, and hence the overall check has failed despite passing for LCP and FID.
You can find the detailed free report here for Mobile mode and user percentile distribution
Importance of CWV?
A better CWV score can add multiple benefits to your website and can have a positive impact on the business:
Better Conversion Rate
Higher Session Times
Lesser Bounce Rates
Better SERPs (Search Engine Ranking Positions) for web pages
You should consider CWV an important factor and create a culture around it. Optimising website performance is teamwork; it starts from design and ends with tech, so having a performance-driven culture for website development is the way forward.

How to get started with CWV?
Step 1: Start Measuring and Collect the Data; Auditzy can help you store your data to gain data-driven insights over time.
Step 2: Create Awareness across stakeholders. By doing so, you can genuinely impact your company website in a positive way. Take the lead and educate your stakeholders regarding why CWV metrics are essential.
Step 3: Start optimisation and set up a performance-first culture
How Auditzy can help with CWV?
Auditzy is a SaaS tool that offers both Lab Data and Field Data Monitoring. Use our spectrum of Devices, Networks and Global Server locations for development purposes to identify performance bottlenecks across 5000+ visitor personas.
Once you fix the problems, monitor CWV data with the Auditzy Free CrUX checker and see the progress.
You can also perform competitor analysis for both Lab Data and CWVs via our dashboard free of cost. The below image demystifies the comparison of CWVs for Flipkart and Amazon for last 6 months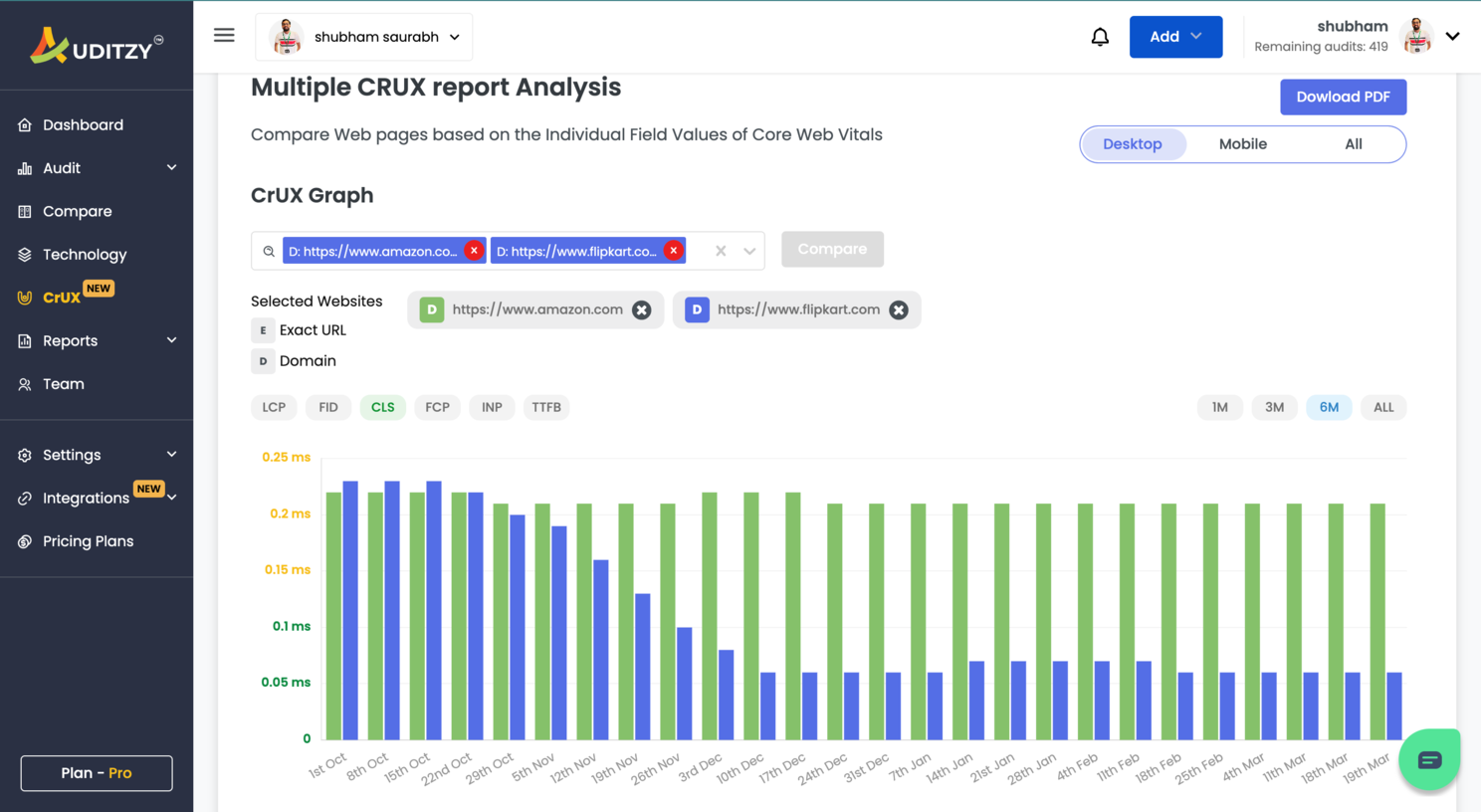 Performance optimisation is an iterative process, so don't optimise for everyone initially. Start with specific personas your business aims to cater to via Lab Data, then move forward with low-priority personas. You can read more about visitor personas here
Conclusion
Core Web Vitals are very critical for any web-first business, not because they can boost SERPs but also because they can help your business generate more revenue over time via optimising conversion rates. Definitely, content plays an essential role along with performance, speed and visual stability.
You can read more about how to check core web vitals history here
If you liked this article, feel free to share it across your network.